Disclaimers: Gundam Wing was created by Sotsu
I make no monetary profit from my fanfic
GUNDAM WING FANFICTION
DEATHSCYTHE - Duo's thoughts on his Gundam
DEATH'S EMBRACE - Duo's thoughts on Death
FIGHT FOR PEACE - Zechs contemplates his actions
LET ME ... INTRODUCE MYSELF ... - The Gundam Wing cast introduce themselves...
MY DEAR DEATHSCYTHE - Duo mourns Deathscythe's destruction
LAST HOPE FOR PEACE - Zechs has a proposition for Duo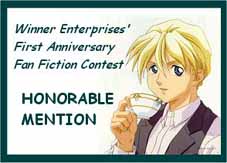 I won an Award! Yay! Coolies!
YOU KNOW YOU'RE IN LOVE WITH ZECHS WHEN ...
AFTER THE BATTLE - Zechs recovers from his final battle with Heero


Zechs Duo
Zechs & Duo Sprites adopted from:
http://www.angelfire.com/goth/kittycat/chibidreams/newchibidreams.html
More Gundam Wing fanfic to come!
~~~~~~~~~~~~~~
Gundam Wing Sound Files
"Why don't I show you something interesting..." Zechs
"Consider ourselves fortunate because we came out alive..." Zechs
"..I'll become the God of Death once again, but right now ..." Duo
~~~~~~~~~~~~~~~~~~~~~~~~~~~~~~