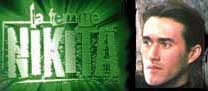 Disclaimers: La Femme Nikita is owned by Warner Brothers.
I make no monetary profit from my fanfic.
LA FEMME NIKITA ... MICHAEL FANFICTION
LIBERTÉ- Michael reminisces
BAD HAIR DAY - A humorous fic about the bad LFN haircuts of the third series
TOP 17 YOU'RE OBSESSED WITH LA FEMME NIKITA
MICHAEL DREAMS - Dreams I have had about Michael
More La Femme Nikita (Michael) fics to come!
Michael Sound file (Wav)
"Sometimes all we have is our dreams."
~~~~~~~~~~~