Disclaimers: Star Trek created by Gene Roddenberry created, owned by paramount Pictures.
I make no monetary profit from my fanfic/fanfunnies.
Author's note: Most of the businesses in the first set were the names of actual businesses I found in the phone book! Thanks to Annie for her contribution of Lore's House of Horrors and 'Just Ask Lore'! And I actually do have a pair of Lorella boots! My grandmother bought them for me. They're gorgeous and brown, and have buckles, just like Lore's!
Rating M
And now ... without any further ado ...
~~~~~~
MIND LORE OWN BUSINESS
AS YOU MAY ALREADY KNOW, I HAVE SEVERAL BUSINESSES/COMPANIES - LIKE BABIES TO ME, ALL OF THEM. IT TAKES QUITE A BIT OF INGENUITY TO START UP A COMPANY AND I AM CONSTANTLY LOOKING FOR NEW IDEAS AND I CHERISH EVERY COMPANY I CREATE. LET'S TAKE A LOOK AT THE BEAUTIES ....
DRUM ROLL PLEASE
DRRRRRBRRRRRRRRRRRRRRRRRRRRBBRBRBRBRBRBRRRRRRBBBRRRRRRR......
MY FIRST COMPANY
LORE'S CONSULTING PTY ULTD - PRETTY UNLIMITED
I GAVE VERY GOOD ADVICE, THANK YOU! WHAT DO YOU EXPECT - IT'S MY CONSULTING COMPANY! WHAT DO I CONSULT IN, YOU ASK - WELL ANYTHING YOU WANT ME TO - PROVIDED YOU TAKE MY ADVICE. IF NOT, YOU SHOULDN'T HAVE CALLED IN THE FIRST PLACE, YOU DUMB SHMUCK, DON'T COME NEAR ME IN A DARK ALLEY AND DON'T BOTHER CALLING BACK. SMEG HEAD.
THEN CAME - THE TELE-DIAL SERVICE --
Have you ever had one of those annoying siblings who bug you all the time? Well put up with it no longer - just pick up the phone and dial 1-900-LORE $50 for each second and all your problems will be solved in a messy illegal manner. How much would you expect to pay for such a wonderful service?
$1000 000? $200 000? No! - Here you pay a mere $49.95 million dollars! + $395.00 delivery. Hurry now, don't delay! This unique and extremely valuable and worthwhile offer is available only everyday of the year. But wait, there's more! Call within the next thirty minutes and receive a barrage of vile, tasteless insults - free! Excluding the call charge...
WELL I DID GET A FEW CALLS - BUT THE SHMUCKS ALL FLED TOWN WHEN THEY GOT THEIR PHONE BILLS. IF THEY DIDN'T WANT TO PAY - THEY SHOULDN'T'VE CALLED, THE IDIOTS. NOT MY FAULT THEY DIDN'T READ THE AD PROPERLY, FOOLS. HUMANS!
AND THIRDLY
LORE'S HAIR DESIGN
WELL MY METHOD IS REALLY SIMPLE, YOU SEE. FIRST YOU GET A PAIR OF SCISSORS - AND THEN YOU JAM THEM INTO AN ACTIVE POWER SOCKET. WORKS WONDERS!
AND NUMBER FOUR ....
LORE'S ATTIC
WELL WHAT DID YOU EXPECT?! YOU COME IN HERE EXPECTING THE UNIVERSE AND THEN SCREAM AT ME FOR NOT GIVING IT TO YOU. DON'T BLAME ME FOR YOUR SHORTCOMINGS - I HAVE ENOUGH OF MY OWN. OOPS - THAT DIDN'T COME OUT RIGHT ... WELL AT LEAST I KNOW THAT SOME PEOPLE ACTUALLY DO APPRECIATE ME!
NUMBER FIVE (Is Alive!)
THIS IS MY VERY INVENTIVE RENOVATION - HOME (DIS) IMPROVEMENT BUSINESS THIS BUSINESS IS MOST DEFINITELY CONSTANTLY IMPROVING. IT WORKS WONDERS ON OBNOXIOUS NEIGHBOURS.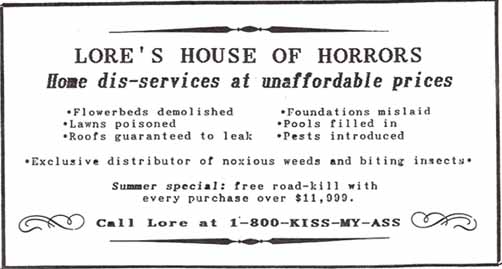 IN CONJUCTTION WITH BRIGHTMAN CONSOLIDATED GOES HAND-IN-HAND WITH MY HANDY ANDROID MANUAL. GRAB A COPY TODAY WHEREVER REALLY BAD BOOKS ARE SOLD - ONLY A MILLION DOLLARS A COPY. HURRY - STOCKS ARE UNLIMITED.
NEXT ... THE PISS DE LA RESISTANCE .....
AND THE NEWEST ADDITION --
LORELLA
THIS IS MY BELOVED BOOT COMPANY. LORE MAKES BOOTS! YES, I'M MAKING LOVELY BROWN, BLACK - ANY COLOR, ACTUALLY - BOOTS - REAL BOOTS, I PROMISE. THERE'S NOTHING LIKE A BOOT COMPANY TO KICK OFF MY CAREER! PUN INTENTIONAL - HAH! I JUST LOVE CREATING COMPANIES!!! OOOOHHH IT'S SOOOOO MUCH FUN!!!
*Well I must say, Lore, this is a vast improvement to your other ... businesses.*
GET LOST DATA - THIS IS MY BUSINESS PROPOSAL - GO WRITE YOUR OWN.
*Just a minute, Lore, I was just saying that I believe you actually have a good business here.*
WHAT? ALL MY OTHER BUSINESSES WEREN'T GOOD EMOUGH?! WHAT WOULD YOU KNOW ANYWAY?
*How much money did you make, Lore?*
THAT'S A PERSONAL MATTER, DATA. I MADE QUITE A LOT THANK YOU. .... BY THE WAY IS 75 EARTH CENTS A LOT?
*What?! You actually made a profit? Wonders never cease. Lore, Lore .... I feel for you, I really do - that's why I'm going to help you with your new business.*
YOU ARE??!!
*Yes - I may kick myself later, but I'll help you.*
WHEN YOU KICK YOURSELF, MAKE SURE YOU'RE WEARING AN AUTHENTIC LORELLA BOOT.
*Will do. By the way, Lore, what would you like me to do? You seem to have set your business up rather nicely.*
WELL, THANK YOU, DATA, I'M FLATTERED YOU APPROVE. THE BOOTS ON THE SHELF NEED POLISHING - SO GET LICKING!
*I can't.*
WHY NOT? DATA, I WON'T FIRE YOU, BUT IF YOU DON'T DO WHAT I SAY, I'LL BOOT YOU OUT - LITERALLY. WHY CAN'T YOU POLISH THE BOOTS?
*I have my foot with a Lorella boot on stuck in my mouth.*
HA! HA! Y'KNOW DATA, I THINK THIS IS THE BEGINNING OF A WONDERFUL BUSINESS PARTNERSHIP ...
~~~~~~~~~~~~~~~~~
Just when you thought it was safe ... There's more!!!
MIND LORE OWN BUSINESS II
WELL, WELL, WELL, WELL, WELL .... HERE WE ARE AGAIN, AND BOY HAVE I GOT NEWS FOR YOU! YES, THAT'S RIGHT FOLKS, MORE BUSINESSES! MY LATEST BEAUTIES ARE LAID OUT FOR ALL TO SEE, IN MY LATEST PROSPECTUS. WANNA BUY SHARES? SURE - $3000 000 APIECE - MONEY UP FRONT - OH, I FORGOT TO TELL YOU, I WON'T BE SHARING MY BUSINESSES WITH ANYONE! HAH! BUT YOU CAN STILL SEND MONEY FOR SHARES! READ ON; BE ENTHRALED; BE ENTRANCED - YES, IT'S DIFFERENT, IT'S STUPENDOUS, IT'S OUT OF THIS WORLD - WHO HAS COME UP WITH ALL THESE WONDERFUL PLANS AND BUSINESSES? WELL, IT'S ME, REALLY. YES IT IS I, LORE THE LUDICROUS! (Hey! That wasn't the word I was looking for!)
WELL ONTO MY NEW BUSINESSES, BABIES TO ADD TO MY EVER-GROWING IMAGINATION!
TELEPHONE Q & A SERVICE SPONSORED BY BRIGHTMAN CONSOLIDATED
JUST ASK LORE!!
AN EXAMPLE OF MY WONDERFUL, HELPFUL INGENUITY - ASK ME ANYTHING!!
Q. What can I do about loud noisy neighbours?
Fred Up.
A. Freddie, (not Kruger, is it?) - invite them over for tea, and then lock them in a room and I'd say force them to listen to "The Cranberries" OR Britney Spears at full blast, but I won't say that, because it's too cruel, even for me. (Shudder).
Or you can just phaser them.
Q. What can I do to stop my floorboards creaking?
Lightfoot.
A. Stop walking on them.
Q. What can I do about an obnoxious brother?
Desperate.
A: Try to understand him. He's probably really hurt underneath and care for him - and never be to hard on him, even when he's beating the shit out of you - and Data, I told you never to call me at work!
And now, for my next endeavour ...
TOILET PAINTING
YES, FOLKS, YOU READ RIGHT - TOILET PAINTING! IT'S A CRAZY NEW FAD (WHICH I INVENTED, MIND YOU) AND IT'S PATENTED, SO YOU CAN'T STEAL IT. SO THERE!I HAVE THE RIGHT PAINTS.
EVEN GLOW IN THE DARK, SOME OF IT'S STILL ON ME. THE LAST TIME I PAINTED A TOILET, IT WAS FOR THE ANDROID FORM OF PRINCESS LEIA. AND SHE WANTED IT PAINTED ON HER BEDROOM WALL IN GLOW IN THE DARK PAINT!! NEVER AGAIN! WELL, I GUESS I'LL HAVE TO FLUSH THIS BUSINESS FOR NOW AND I REALLY HAVE THE SHITS!
INCENSE MAKING
I WENT INTO BUSINESS WITH MY PARTNER, JADE KABIR. THIS ONE OF MY (OUR) MORE EXOTIC BUSINESSES. I HAVE A FACTORY IN BANGALORE, CUDDALORE (Cuddle Lore, yes please) AND MANGALORE (No that's not mangle Lore, thank you) IN INDIA AND I PAY MY WORKERS WELL. THEY LIKE MAKING THE INCENSE, ESPECIALLY THE FRAGRANCES I INVENTED!
Tandoori Fart, Elephant Shit, Rotten Egg with Bengal Tiger Vomit, Mouldy Strawberry, Bombay Baboo Belch, Aura of Delhi Dogshit, Saharanpur Stink Supreme, Vindaloo with a Vengeance
Dave Lister reports that Tandoori Fart and Vindaloo with a Vengeance is pure scent of the Gods, whist Rimmer lies flat on his back.
AND THAT'S JUST THE BEGINNING! THER ARE MORE, BUT I'D HATE TO SPOIL IT FOR YOU, BUT THERE'S ONE MORE I'LL LET YOU IN ON:
SANDALWOOD WITH DYNAMITE. "SANDLAMITE" I CALL IT. - THERE'S A SPECIAL DEAL HERE:
For anyone who does ill to me: ---- One free carton of Sandalmite for all of you! That's right, absolutely free, no questions asked and none answered. You ALSO get another carton at no extra cost F-R-E-E. BUT WAIT THERE'S MORE!!! You can also get a third carton free too - ain't I nice?? I'm just Your fiendly neighbourhood guy. Just call in on me (address withheld) or call 1-800-S-U-C-K-E-R. Incidentally (detonators) lighters included at no extra cost. Light them all at once! Call now!!! You'll explode with excitement!!! (PS, also you also get a free box of chocolate (shit) chip cookies with every case of sandalmite sold!)
SHAMPOO (WITH ACTIVE SPECIAL INGREDIENT X)
YES, THAT'S RIGHT, MAYBE A LITTLE MORE MUNDANE, BUT THAT'S JUST THE TICKET AND IT MAY NOT BE AS ORDINARY AS YOU THINK. IT NEVER IS .... (CHUCKLE) AND NO, IT'S NOT A SHAM. POO.
SO YOU WANT TO KNOW ABOUT SPECIAL INGREDIENT X, HUH? OKAY - ON MY SPACE TRAVELS I MET A MARTIAN ON PLANET X WHO INTRODUCED ME TO THE STUFF. MADE HIS WHOLE PLANET GROW BROOMSTICKS ON THEIR HEADS. I THINK HE SAID HIS NAME WAS MARVIN.
LORE REAL SHAMPOO IS THE BEST!! NO ONE WILL EVER COMPLAIN ABOUT THEIR HAIR NOT GOING THE WAY THEY WANT IT TO OR WORRY ABOUT DYING IT OR BRUSHING IT AND GONE WILL BE THE EXCUSE OF A
BAD HAIR DAY. IT'S NEW, IT'S GREAT, IT'S WONDERFUL AND YOU'LL LOVE HOW YOUR HAIR COMES OUT! PERSONALLY RECOMMENDED BY CAPTAIN JEAN-LUC PICARD.
TRY NEW LORE REAL SHAMPOO TODAY, BECAUSE YOU'RE WORTH IT
TEACHING/WRITING PROFESSION
OKAY, SO THIS ONE'S A LITTLE DIFFERENT, BUT THEN THEY ALL ARE! HERE ARE MY CLASSES:
AMAZING ARSON MADE EASY, AMATEUR ANARCHY, PROFESSIONAL PLAGIARISM, CUNNING COUNTERFEITING, SIMPLE STEALING,
LOVELY LYING, PERFECT PILLAGING, PIRATE STYLE - BUT WAIT, THERE'S MORE! HANDY HACKING, RESPLENDENT ROBBING, TERRIFIC TYRANNY, AND THE LAST ONE, UNTIL I THINK OF MORE -- HOW TO PISS WITH FLAMBOYANT PERFECTION IN OPEN PUBLIC PLACES ...
UNFORTUNATELY, I HAVE TO REPORT THAT ALL DID NOT GO WELL.
WITH DIFFICULTY I MANAGED TO OPPRESS THE AMATEUR ANARCHY CLASS. ALAS, YES, THEY OVERTHREW ME - ME!! LORE! HEY, CAN I HELP IT THAT I'M SUCH A GOOD TEACHER?! ANYWAY, THE PLAGIARISM CLASS WERE EXPELLED FOR COPYING THE BRIGHTEST KIDS SCHOOL REPORT. THEY WERE DUMB STUDENTS ... MY PISSING CLASS WERE EMPLOYED AS WEED KILLERS, SINCE THEY SUCCESSFULLY KILLED ALL THE VEGETATION IN THE SCHOOL GROUNDS, MY CUNNING COUNTERFEITERS WERE ALL ARRESTED WHEN THEY TRIED TO SPEND MILLIONS OF DOLLARS IN MONOPOLY MONEY THEY'D COPIED. VERY DUMB AND NOT CUNNING. THE LYING CLASS LIED ABOUT THEIR SCHOOL REPORTS AND WERE GROUNDED. THE PILLAGERS MADE A FORTUNE WHEN THEY SET UP A VIKING VILLAGE. THE HANDY HACKERS WERE BUSTED WHEN THEY TRIED TO HACK THE ENTERPRISE COMPUTER AND PICARD GAVE THEM A GOOD HIDING. (What's good about a hiding?) THE TYRANNY AND ANARCHY CLASSES ANNIHILATED EACH OTHER BY SIGNING A TRUCE AND THE SIMPLE STEALING AND ROBBING CLASSES WERE ARRESTED WHEN THEY WERE SHOP LIFTING - THEY TRIED TO CARRY OFF K-MART. AND I DON'T NEED TO TELL YOU WHAT HAPPENED TO THE SCHOOL IN THE ARSON MADE EASY CLASS. THE PRINCIPAL CAME AFTER MY CHEMICAL NUTRIENTS WITH A #$%&**@ HUGE FLAME-THROWER! I KNOW WHEN I'VE REALLY GIVEN SOMEONE THE PIP AND AS I WISELY SAY WHEN YOU CAN'T WIN - GET THE #$%& AWAY! WHICH IS WHAT I DID AND LUCKY THE BUGGER DOESN'T KNOW MY ADDRESS. PHEW. ANYWAY, I WROTE BOOKS ON ALL THE SUBJECTS AND GAVE THEM TO A PUBLISHER. HE BURNT THE ARSON ONE, SAID HE LOST THE LOST THE STEALING, ROBBING, PILLAGING, HACKING AND COUNTERFEITING ONES (WHAT AN IDIOT - AND THOSE WERE MY ONLY COPIES - HAND WRITTEN TOO.) FLUSHED THE PISSING ONE DOWN THE TOILET, BUT HE HAS PRINTED ONE OF MY BOOKS. HE SAID HE'S PUBLISHED MY "PROFESSIONAL PLAGIARISM" BOOK, WHICH MADE ME HAPPY. AT LEAST ALL MY HARD WORK WASN'T FOR NOTHING. HE'S SENT ME A COPY. LOOK -- "PROFESSIONAL PLAGIARISM - BY WHAT???!!! JOHN DONALDSON-DIXON???!!! HEY!! THAT BASTARD STOLE MY BOOK!!!!!
RECIPES (101 REVOLTING RECIPES)
THE BOOK IS NOT YET COMPLETE - I WON'T BE GOING TO THAT JOHN DONALDSON-DIXON SMEG HEAD AGAIN! IF I FIND HIM, I'LL JUST HAVE TO SERVE HIM SOME OF MY DELICIOUS PUNCH. WHEN "101 REVOLTING RECIPES" IS PRINTED - I'LL BE ASKING NO LESS THAN $1000 000 A COPY - AND THAT'S BARGAIN PRICE. HURRY, WORST DRESSED FIRST SERVED! I HAVE SOME GREAT IDEAS FOR CAKES, OATMEAL AND YOU SHOULD SEE WHAT I CAN DO WITH CHICKEN VINDALOO AND A SPATULA!
HEREBY HANGS AN EXAMPLE:
CHAMPAGNE 'ALA LORE (For a get-together)
INGREDIENTS:
CRAPPIEST CHAMPAGNE YOU CAN REPLICATE OR BUY
1 STRAWBERRY (A.K.A, CHERRY BOMB) FOR GARNISH
1 PART FINE GROUND QUADRATANIUM (OR APPROPRIATE POISON)
METHOD:
POUR THE CHAMPAGNE INTO THE GLASS, AND LET IT SETTLE. THEN CAREFULLY SLIT THE GARNISH ON THE SIDE OF THE GLASS. CAREFULLY MEASURE THE AMOUNT OF QUADRATANIUM (POISON). NOT TOO MUCH, IT COULD PROVE QUITE FATAL, AND WE WOULDN'T WANT THAT, WOULD WE? LET IT SETTLE AND SERVE. YOUR SIBLING/ENEMY WILL BE ROLLING AROUND ON THE FLOOR IN NO TIME. GET THE DRIFT?
LORE'S PUNCH
INGREDIENTS:
ONE OR TWO FISTS
METHOD:
STAND YOUR BROTHER (OR ANYONE YOU HATE) IN THE MIDDLE OF THE ROOM AND GO FOR IT!
I'M SURE YOU GET THE DRIFT.
AND NOW ONTO THE NEXT BIZZO!
COCKROACH BREEDING
WOW!!! IS THIS WILD OR WHAT? WELL THEY ARE, THE GROSS CREEPY CRAWLIES - THAT'S WHY I LOVE THEM! NOW FOR THIS TOTALLY SCREWED, INSANE AND OBNOXIOUS BUSINESS. COCKROACH. SOUNDS RUDE, DOESN'T IT? WELL, ONTO THE BUSINESS. SINCE ONE FEMALE COCKROACH CAN PRODUCE OVER 100 BILLION OFFSPRING EVERY 18 MONTHS - YES THAT'S RIGHT - THAT'S WHERE MY INGENIOUS (WELL IT'S TOTALLY PATHETICALLY STUPID, BUT IT'S WORTH A GO) BUSINESS COMES IN. I HAVE COCKIES FOR SALE NOW YOU CAN EITHER BUY ONE FEMALE AND ONE MALE (YES, I'VE CHECKED WHICH IS WHICH)
AND HAVE THEM REPRODUCE IN A SINGLE CLOSED ROOM AND FEED THEM APPROPRIATELY, OR YOU CAN BUY THE OFFSPRING. ALL COCKROACHES ONE MILLION DOLLARS APIECE - AND MOST IMPORTANTLY KEEP THEN IN A CLOSED PLACE. SO YOU THINK THIS IS ABSOLUTELY MADCAP? YOU'RE WRONG. IT'S ABSOLUTELY IRREFUTABLY INSANE! NOW BEFORE YOU THROW DOWN THIS THINKING WHAT A PILE OF CRAP IT IS, I'LL TELL YOU THE BUSINESS PLAN. EITHER WAY, YOU'LL END UP WITH A LOT OF COOKOGARACHAS.
THE PLAN IS -- YOU'RE BREEDING COCKIES FOR YOUR ENEMIES. OOHHH! YESSSSSSSSSSSSSSSSSSSSSSSSSSSS!!! THIS IS DEFINITELY DIABOLICALLY DELICIOUS!! ONCE YOU HAVE ENOUGH OF THE BUGGERS YOU CAN INFEST THEIR HOUSE, CAR - I DON'T KNOW ABOUT YOU, BUT I'M GOING TO INFEST ALL MY ENEMIES UNDERPANTS.
INCIDENTALLY STINGING WASPS, BEES, SPIDERS, SNAKES AND MANY EXOTIC BITING/STINGING THINGIES ARE AVAILABLE TOO.
ALAS, IT SEEMED LIKE A GOOD PLAN, BUT IT DIDN'T TAKE OFF. I BEGAN TO TEACH THE COCKROACHES TO PLAY GUITAR, AND TO READ AND THEY TOOK OVER AND I HAD TO SPRAY MY SECLUDED ROOM AND MY GIRLFRIEND SAW A BIG COCKROACH IN THE KITCHEN THE OTHER NIGHT AND WENT APESHIT, AND NOT TO MENTION TOTALLY BALLISTIC AND BROUGHT OUT THE COCKROACH BOMBS ...
INCIDENTALLY I ALSO MAKE HOUSE CALLS. I'LL CALL YOU AND YOUR HOUSE WHATEVER I WANT!
WELL THAT'S ABOUT IT. WONDERFUL BUSINESSES, AREN'T THEY? EVEN THE ONES WHICH DIDN'T WORK OUT WERE SPECIAL FOR A WHILE, AND THEY STILL ARE. WELL, A BID YOU ADIEU. THIS IS ALL I HAVE TO TELL YOU ABOUT MY NEWEST BUSINESSES, SO UNTIL NEXT TIME, MIND LORE OWN BUSINESS! THESE ARE ALL MY BUSINESSES - ALL OF THEM. THESE ARE ALL I HAVE -- UNTIL I THINK OF MORE, THAT IS!
THUS CONCLUDES THIS SECOND PROSPECTUS.
FOR NOW .... (MANIC CACKLE)
PRINTED BY: DEAN'S DOTMATRIX
~~~~~~~~~~~~~~~~~
MIND LORE OWN BUSINESS III
I'M BAAAAAAAAAAAAAAAAAAAAAAAAAAAAAAAAAAAAAAAAAAAAAAAAAAACK!!!!
WELL DINNA SAY I DINNA WARN YE, CAPTAIN!
IT IS WITH THE GREATEST PRIDE AND PREJUDICE THAT I PRESENT TO YOU MY THIRD BUSINESS PROSPECTUS. I TRUST YOU ENJOYED MY OTHER TWO, NOT TO MENTION MY BRILLIANT ELECTORAL CAMPAIGN! NOW - WITHOUT FURTHER ADO --
LORE THE VOICE
FOR MY FIRST NEW BUSINESS, I DECIDED TO PUT MY ELOQUENT VOCAL CHORDS TO USE AND CREATE MY FIRST ALBUM. OF COURSE I SING THE BEST VERSION OF "ABDUL ABULBUL AMIR" THERE'S GOING, AND SO I PROUDLY PRESENT YOU WITH A SAMPLE FROM MY BRILLIANT ALBUM: "LORE THE LEGEND..."
ON TOP OF SPHAGHEEEEEEEETTI, ALL COVERED IN CHEEEEEEEEESE, I LOST MY POOR DRUUUUUUM ROLL WHEN SOMEBODY SNEEEEEEZED. IT ROLLED OFF THE TAAAAAAAAAAABLE AND ONTO THE FLOOOOOOOOR, THEN MY POOR DRUUUUUUUM ROLL ROLLED RIGHT OUT THE DOOOR. IT ROLLED IN THE GAAAAAAAAAAAARDEN, AND UNDER A BUUUUUUUUSH, AND THEN MY POOR DRUUUUUUUUM ROLL WAS NOTHING BUT MOOOOSH!
And of course there's the gorgeous Abdul Abulbul Amir...
"The sons of the prophet were valiant and bold ..."
AND IF YOU THOUGHT THAT WAS GOOD - BUY THE ALBUM AND WAIT TILL YOU HEAR MY REMINITION OF "KUMBAYA!" INCIDENTALLY THAT SINGLE IS AVAILABLE AND "LORE THE LEGEND" IS CURRENTLY AVAILABLE ON DOUBLE CD AND CASSETTE, AND IT WOULD BE ON LP, BUT I BROKE THE RECORD.
"I personally recommend everyone go out and buy "Lore The Legend. Kumbaya! What a masterpiece! AND HE EVEN PLAYS THE HAMMOND ORGAN!~~~" Arnold Rimmer exclaims, beside himself.
ONTO BIZ NO 2!
BROTHER TO BROTHER
NOW I WONDER WHY I DIDN'T THINK OF THIS ONE BEFORE.
"Data, Data, I have a Business to help Brothers get along with each other."
*Ohhh shit.*
(Smile) "Hey ya love that word don't ya? Shit, shit, shit."
*Yes, Lore. Shit. Shit. Shit.*
"Impressive."
*Lore, perhaps I should make a business for Brothers to get along with each other.*
"Oh, shit, I'm outta here!"
WELL ANOTHER GOOD BUSINESS DOWN THE GURGLER AS I MAKE MY HASTY EXIT.
I EVEN TRIED OFFICE MANAGEMENT, BUT ALL MY SLAV ... WORKERS QUIT, I DON'T KNOW WHY. I'M NOT THAT BOSSY, AM I?
"I TOLD YOU I WANTED YELLOW PHOTOCOPY PAPER!! YELLOW YOU GIMBOID!!!"
The incompetence of these people! Sheesh!
WELL NEXT I TRIED MARRIAGE COUNSELLING
"IF YOU DON'T LIKE EACH OTHER, THEN WHY DID YOU GET MARRIED IN THE FIRST PLACE? WHY ARE YOU COIMING TO ME FOR? IT'S OBVIOUS YOUR MARRIAGE IS ONE THE ROCKS, SO GO AND GET A DIVORCE! SHEESH!"
Well perhaps that wasn't really my forte, but hey, at least I tried.
NOW ONTO THE NEXT BUSINESS ...
FASHIOABLE STRAIGHT JACKETS MADE TO ORDER
WELL I GOT THIS IDEA FROM MY OLD TAILOR JERROLD, WHO QUIT IN DISGUST WHEN HE COULDN'T MAKE A STRAIGHT JACKET TO KEEP ME. AND NANCY POO, HIS SEWING MANCINE JUST WASN'T UP TO MAKING A STRAIGHT JACKET OUT OF COLD PRESSED DURILLIUM.
SO MOW I BRING YOU LORE'S FASIONABLE STRAIGHT JACKETS!
HOW IS THIS POSSIBLE? WELL I INVENTED IT, DIDN'T I?
STRAIGHT JACKETS IN PURPLES, GREENS, YELLOWS, MULTICOLORED - GOLD, SILVER, STRIPED, BLACK WITH RED HEARTS, YELLOW POLKA DOTS OR EVEN PLAID! - ANY COLOR UNDER YOUR SUN, OR SUNS, DEPENDING ON WHAT PLANET YOU'RE ON! FASHIONABLE ADD ONS, SHINY METAL BUTS, STLYISH STREAKS, HEY I EVEN TIE DYE, AND I CAN EVEN MAKE ONES WITH VARIOUS DESIGNS. FOR SOME REASON STAR TREK, LORD OF THE RINGS, HARRY POTTER AND WINNIE THE POOH SEEM TO SELL LIKE HOT CAKES!
SO IF YOU'RE GOING TO BE SHOVED IN A LOONY BIN, WHY NOT DO IT WITH STYLE!
"Incredible! Stylish Straight jackets ... I'll have one with white Tiger stripes! Ah still can't believe it! fashionable straight jackets! This man is a GOD!!!" Cat says, absolutely stoked. "Now can you tell me how to get this thing off again?"
WATCH THIS SPACE, DON'T TOUCH THAT DIAL, DO NOT PASS GO, AND DON'T GO 'WAAAAAY, MISTER CARSMEEEEELLLLLL (See the movie Out to Sea to get this reference! ;)
WELL THIS IS YOUR FAVORITE, LOVEABLE AND HATEABLE ANDROID SIGNING OFF...
SPECIAL THANKS TO ANNIE'S WONDERFUL WORLD OF SMELLS AND TANNIE'S MAGIQUE LIGHT FANTASTIQUE
*******