*Name is Hades Lord of the Dead, hi howya doin'?*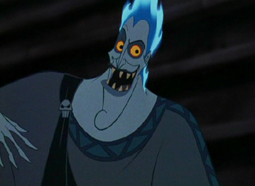 No doubt you've all seen the film Disney's Hercules *spit* It's original title was that of yours truly in fact - but of course Testosterone Boy even had to steal *that* from me. Now I've managed to dig up the lyrics to the songs that *sigh* never made it to the film's final draft. - Hey, I'm not such a bad guy really, Hey a little misguided, Whatsay ya give me another chance, Bolt Boy?

CRASH!
Okay, okay, keep your toga on. Never had much of a sense of humor that guy. Hey, so maybe I deserve some manure thrown in my face, but enough's enough - like hey -- I'm supposed to be the bad guy, like what ya gonna do? Make me stop and smell the narcissus? Like even.

Well here they are, people, the real lyrics .... Panic, stop runnin' around like that you're makin' me dizzy!

"Pain's trying to bite me!"

... *Sigh* Minions....
~~~~~~~~~~~~~~~~~~~~~~~~~~~~~~~~~~~~~~~~~~~~~~
The Gospel Truth
If there's one god you definitely wanna get steamed up, it's Hades ....
'Cos he had a Maestro plan
Oh yeah, girl...
He ran the Underwoooooooorld
The dead souls were his to own
He was as cool as he was sexy
And that's the Gospel Truth
He had a plaaaaaaaaaaaaaaaaaaan to shake things up
And that's the Gospel Truth, ohhhh!
Yahahahahahahahahaaaaaaaaaaaaaaaa!!!
Young Herc was mortal now
But since he did not drink the last drop
He still retained his godlike strength
Pain and Panic are in for it now
But Zeus and Hera wept
Because their son could never come home
They'd have to watch their precious rugrat
Grow up from afar
Boo Hoo!
So Hades' brilliant plan
Was hatched before the brat caught his first tooth
That's what you get for messin' with the
Cool, suave God of the Underworld
Tell it girls...
And That's the Gospel Truth ...
The gospel truuuuuuuuuuth ...
~~~~~~~~~~~~~~
Token to Smoken'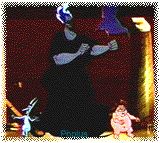 Hey, Get Down!
Hades was so hot
He made steam look cool...
Ohhh yeah....!
Bless my soul
Hade was on a roll
Villain of the week in every Greek opinion poll
What a pro
Hade could stop a show
Point him at Hercules and you're talkin' S.R.O
Hercules is a no one
A Zero, Zero
Hades is a honcho
He's a cool dude
Here's a God with his act down pat
From token to smoken' in no time flat
Token to smoken' just like that! (Click fingers)
When he smiled
The crowds went wild with ooohs and aaahs
And they slapped his face on every vase
Even a naked pose! Oo hoo!
From appearance fees and royalties
Our Hade had cash to burn
Now nouveau riche an famous
Hair a'flame
He could tell you anything
Say, oh Lord!
There he goes again
Sweet and undefeated
And an awesome 10 for 10
Folks lined up
Just to watch his flame
And this perfect bod
Put Apollo to shame, yeah!
Oww! Hadie he comes
He sees, he conquers
Honey, the crowds were goin' bonkers
He showed the charisma, brains and spunk
From token to smoken' a major hunk
Token to Smoken' hair so punk
Who put the Al in aligator?
Ha-ades!
Whose mischievous deeds are great the-a-ter?
Ha-ades!
Is he cool?
No one cooler!
Is he slippery & sweet?
Our favorite flavour! Mmmm!
Ha-ades, (My God!)
Ha-ades! Ha-ades, Ha-ades! Ha-ades, Ha-ades!
Ohhh!
Bless my soul
Hade was on a roll
Undefeated
Riding high
And the *coolest* guy
Very conceited!
Hade's a hotshot
Smoken' Smoken!
He's a babe!
Smoken'! Smoken'!
Hit the heights at breakneck speed
From Token to smoken'
He's everything
Now he's more!
And he's *soooo* cute!
Ohhhhhhhhhh!
Yes Indeed!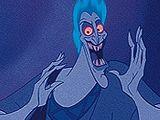 Ain't it the truth?
Yeah Baby, Yeah!
~~~~~~~~~~~~~~~~~~~~~~~~~~~~