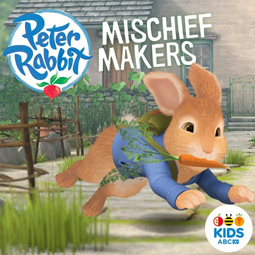 Nightly dreams I have had about Peter Rabbit and friends.
I will be updating as soon as I have more Peter Rabbit dreams.
Please do not archive, though you may link directly to this page.
Dream dates written Australian/UK format as in Day/Month/Year.
Dreams are set in the Peter Rabbit Nickelodeon series, unless otherwise specified.
18/4/20
Missy, Mr. McGregor's niece, saved Peter Rabbit when everyone thought it was over, when he was caught by the ears by Mr. MacGregor. Peter and his friends were horrified and terrified and beyond relieved when she saved him, much to Mr McGregor's chagrin.  Missy, whose real name was Margaret, but she hated it, soon made friends with Peter Rabbit and friends and she even calmed down Old Brown, Tommy Brock and Mr. Tod, who, much to his surprised, liked the girl.  She fed them pecan pie and also vegetable pie she and her aunt and uncle made, though Mr. Tod still played chasing games with the rabbits and found he loved playing with Cotton tail, though pretended he didn't. The others protected his pride; they knew it too and loved their new friend Missy, who had made the forest safer and even convinced her uncle, much to his annoyance to grow a special patch of vegies just for Peter and friends and they even brought potatoes, other roasting vegies, tomatoes and nuts to Mr. Tod, strange that they were all now friends, but they would ot have it any other way.  Missy loved her new friends to and as she carted for them, she could understand what they were saying and had many adventures, even into her adulthood.  She and Mr Tod even got married when she was old enough!
8/11/20
I was shopping in a Woolworths department store.  It was big and confusing.  I saw a woman with a coloured Peter Rabbit mix for rabbits.  I wanted to get some, but then worried if it was natural, then I saw it said ALL NATURAL atop the large package.  I began to look for it. Staff were unhelpful and I was stressed as my mother and a neighbour were coming to co0llect me. A staff member said it was in the supermarket department, so I made a bee line for the supermarket door. My mother felt sorry for me being so stressed, so she picked up a set of 3D stickers with dinosaurs, unicorns, mermaids and faeries for %3.50.  I was heartened.  We went behind the door.  Pandemonium, very noisy with people talking, arguing, too loud tannoy announcements and beeps. My mother, more sensitive than me could not handle it so went back behind the door.  I braved it to get my special Peter Rabbit mix, I knew it was a gimmick, but really wanted it.  I would cry as it had taken my half an hour to find it.  The pet section was right near the checkouts and as lady Fortuna would have it, there was one bag lest and I bought it for $10, triumphant, braving the noise which I had to for my and a neighbour friend's rabbits.  I came out, mother eased relieved and fussing about me.  I put the recipes in my bag lest I lose it.  I bought a rabbit mat and mum bought the special stickers for me.  I thanked her, met my neighbour also concerned about our mental states in the busy, loud stressed shop.  I decided to wrote about it to encourage more conscious shopping, love, joy and peace.  My neighbours and my rabbit loved the very special Peter Rabbit mix! I am glad they appreciated my efforts!
~~~~~~~~~~~~~~~~~~~~~~
More dreams as I have them
~~~~~~~~~~~~~~~~~~~~~~~~~~~
Back to Peter Rabbit Page