WANNA MAKE A DEAL WITH HADES? ...
HERE'S YOUR CHANCE!
A ONCE IN A DEATHTIME OPPORTUNITY ...
GOING ONCE! ...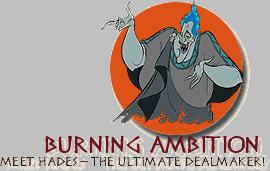 I'm feelin' generous this evening, so I'll make y' deal.
An all expenses paid, free first class trip to the Underworld.
If ya like it you can stay. If ya don't, you gotta stay anyway? Howzat?
C'mon! It's a good deal! You get free pomegranates and everything!
Small Print ... You'll have to give Charon a coin to cross the River Styx. He's very fussy about that.
~~~~~~~~~